Who this course bundle is for
Anyone who enjoys cooking and is curious about Persian flavours
People with Persian roots who miss the authentic tastes of home
Home cooks of all skill levels, who like to learn all about creating 7 popular, delicious Persian stews
Home cooks who want to master the art of making 4 different Persian rice dishes, including fluffy, aromatic Persian saffron rice with crispy rice or bread tahdig
What you learn in these courses
In my courses we go in depth with one classic Persian dish at a time. You learn how to create each Persian dish with the respective rice dish as a side, except Tahchin, which is a full dish on its own.
Each course is broken down into step-by-step video lectures, that are in the right order, so all you need to do is follow them one by one and you will create a full Persian meal for you and your friends or family.
I explain not only what to do, but also why we do things, so that you understand Persian cuisine on a deeper level. 
Persian cuisine is full of flavour and well worth giving a go. Whether you already know this or are curious and want to try something new, this course is for you.
It is created with all different cooking skill levels in mind. You don't need to be experienced in the kitchen to participate. I explain everything step-by-step and should you still have any questions, you can of course always reach out to me. I'm always happy to help.
Why buy the Persian Classics Bundle?
These 8 courses retail at $207.36 if bought separately. With the Full Bundle you save 30% and only pay $143.04.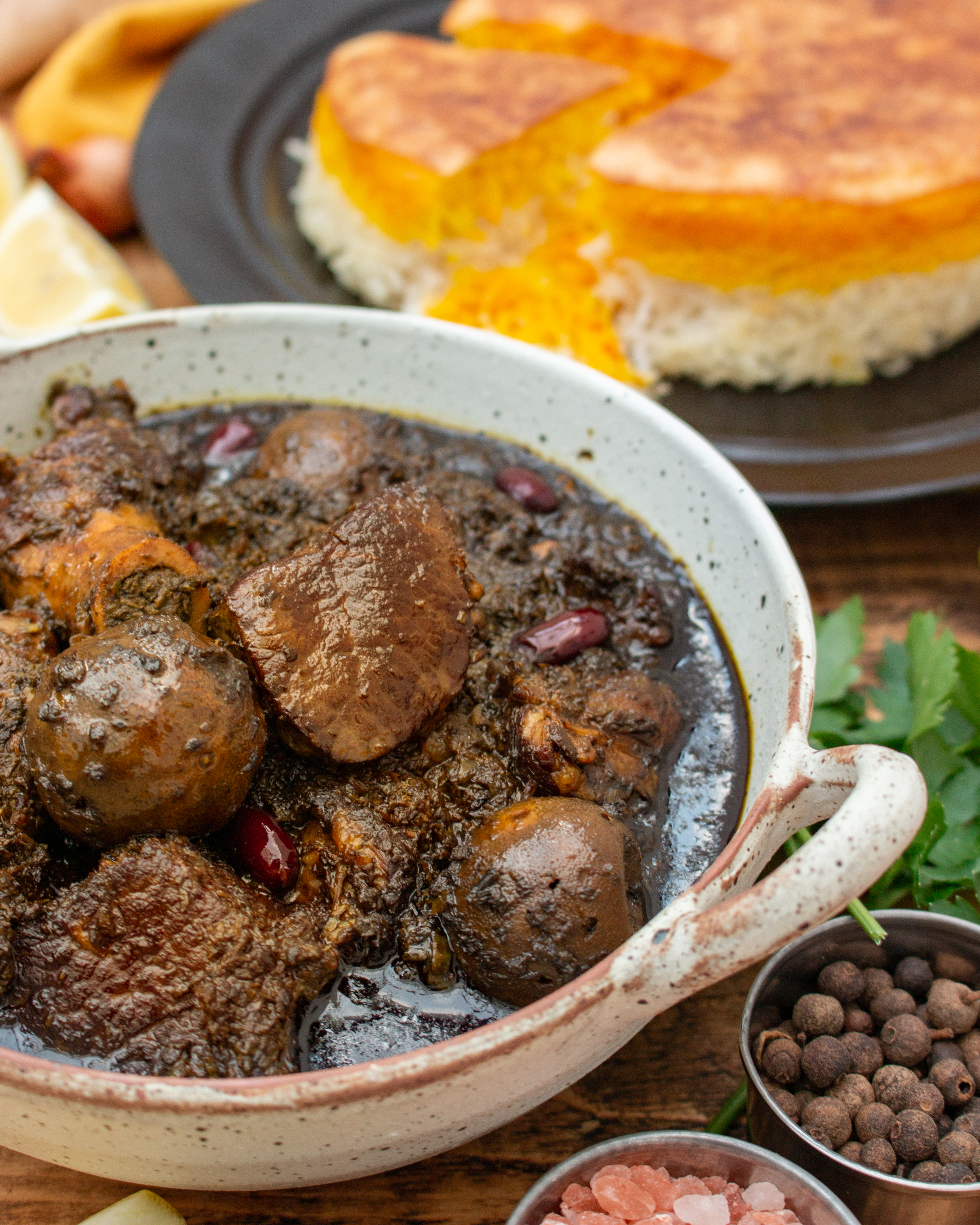 Ghormeh Sabzi
Ghormeh Sabzi is a hearty Persian lamb stew, packed with herbs, that give it a multifaceted flavour. When you ask Iranians about their favourite food, most of them will say it's Ghormeh Sabzi.
Gheymeh Stew is one of the classic Persian dishes! This lamb stew with yellow split peas, topped up with crispy homemade potato fries is high up on most Iranians' list of favourite foods.
I'm certain that I'm not the only one who has memories of family dinners revolving around Khoresh-e Gheymeh. Usually we would all storm the kitchen as soon as the enticing smell of homemade fries hitting the hot oil would reach our bedrooms. Needless to say, few of the fries lasted until it was time to serve. In my course I show you how to prepare Khoresh-e Gheymeh the authentic 'Maman way'.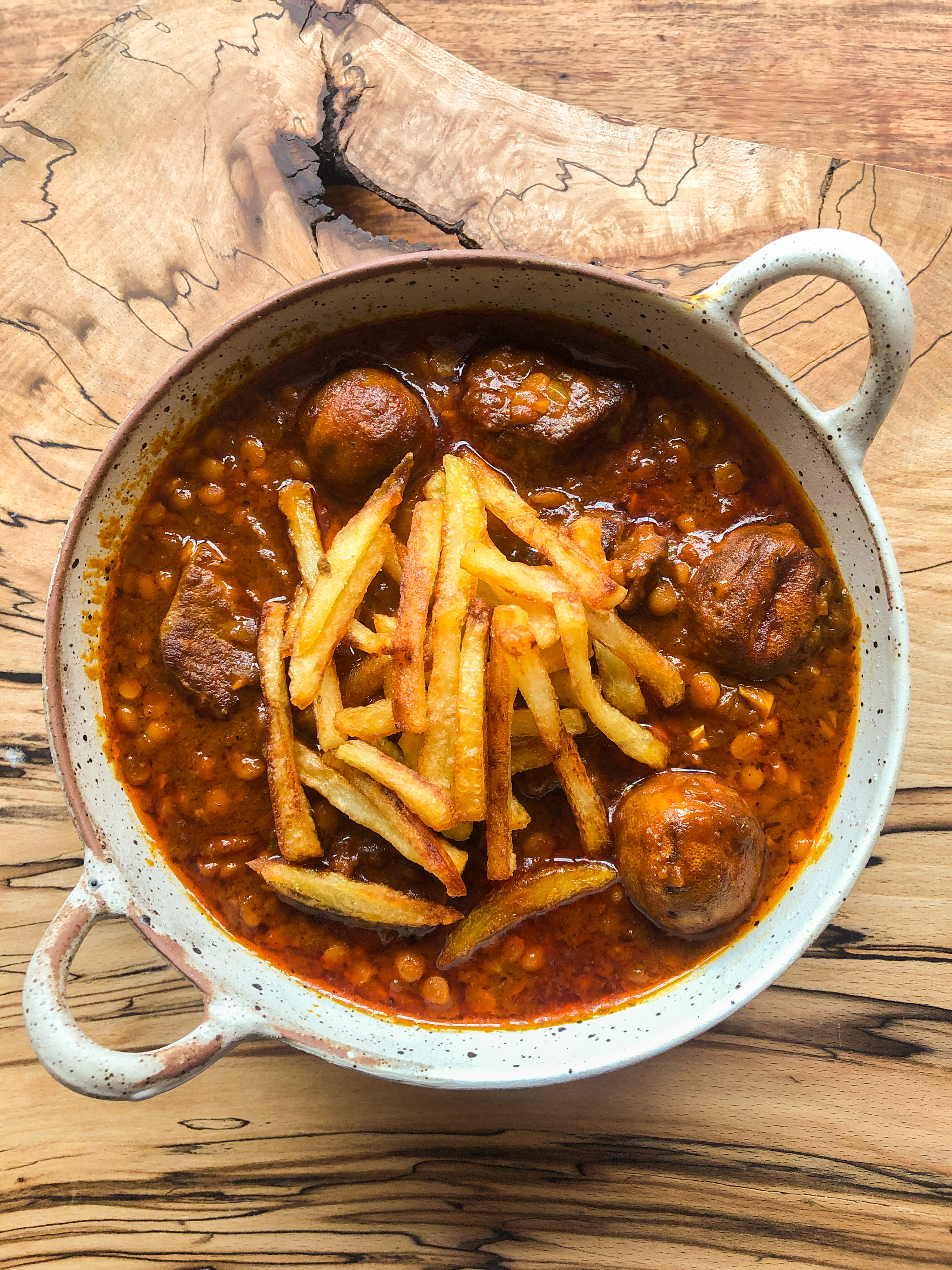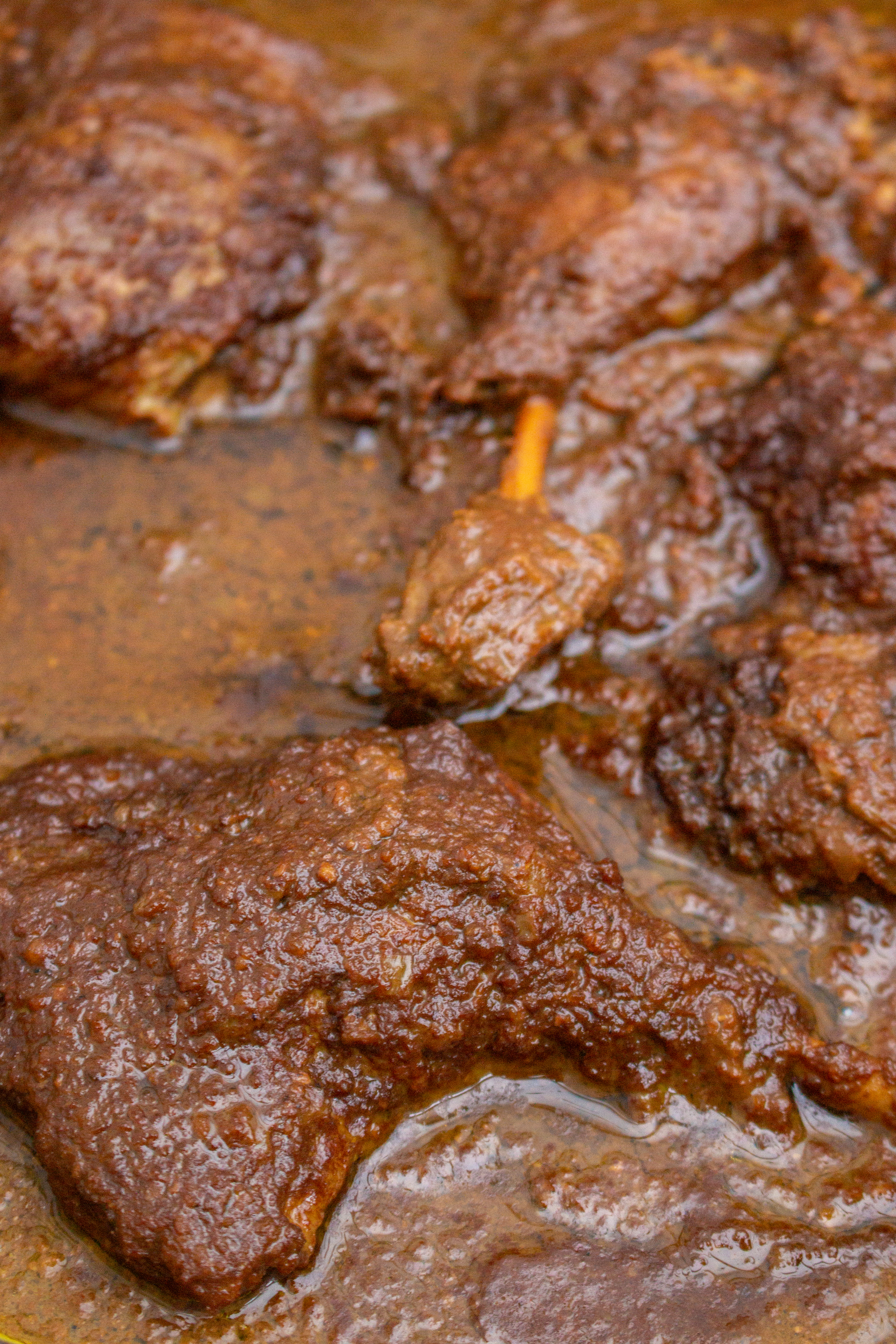 Khoresh-e Fesenjan is a flavourful Persian pomegranate and walnut stew with chicken. If you like sweet and sour flavours, I'm sure you'll love Khoresh-e Fesenjan.
Khoresh-e Gheymeh Bademjan
Gheymeh Bademjan is a flavourful Persian lamb stew with with aubergines, yellow split peas and tomatoes. If you like eggplants and tomatoes, I'm sure you'll love Gheymeh Bademjan.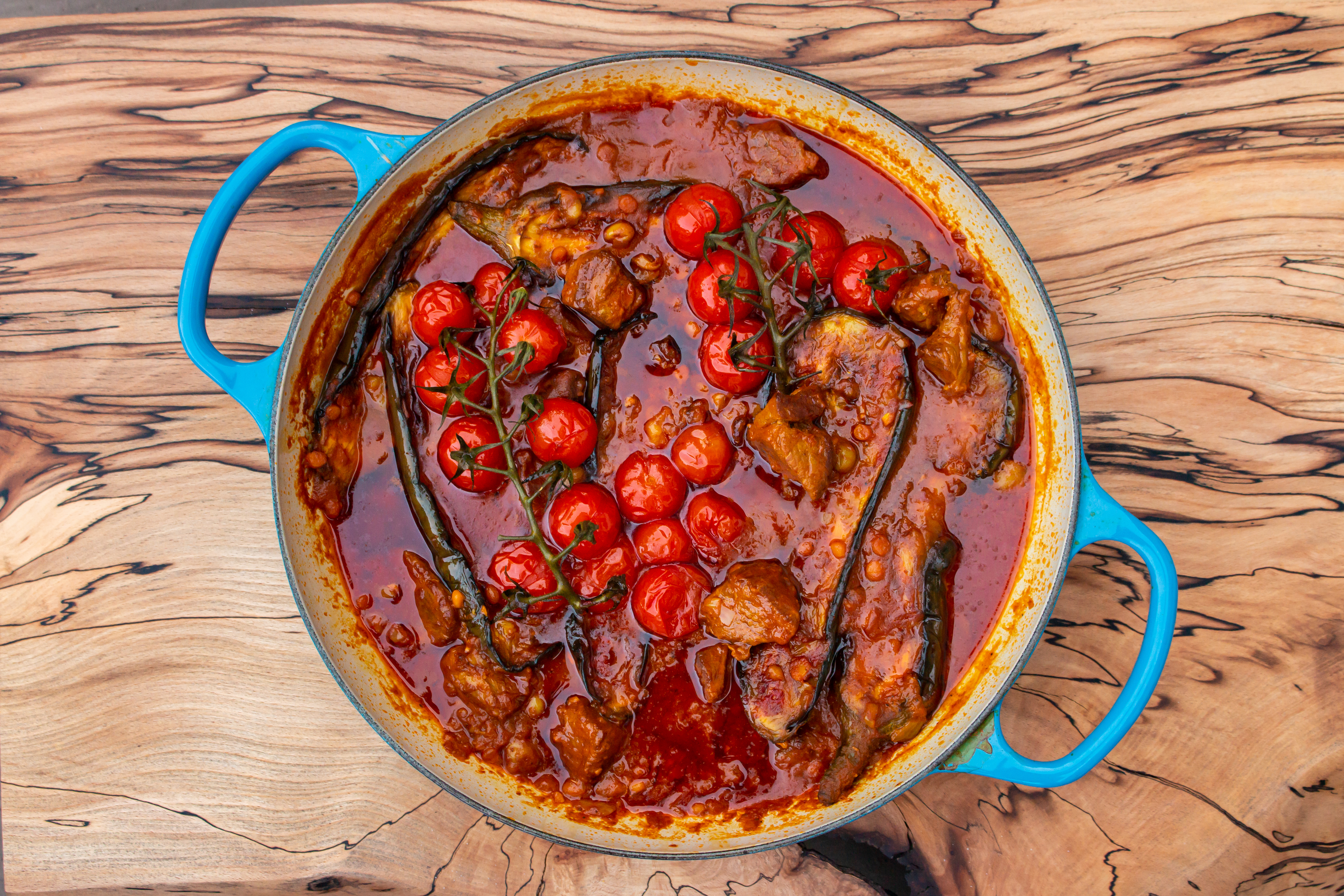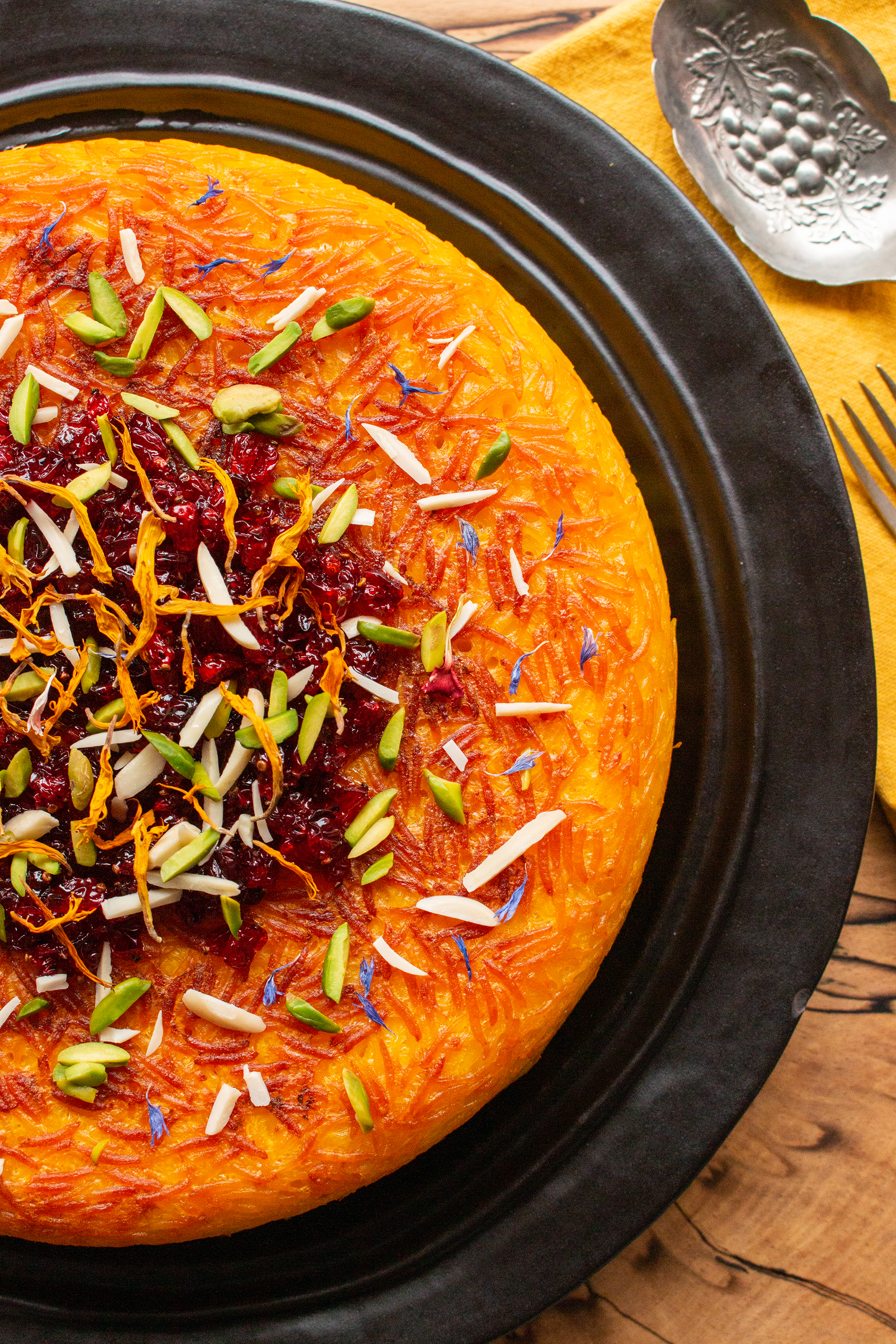 Tahchin is an aromatic Persian rice cake, topped with caramelised barberries. It can be served plan, as a side dish or be filled with chicken, meat or vegetables.
In this course I show you how to make Tahchin-e Morgh (filled with chicken) and Tahchin-e Bademjan (filled with eggplants).
Baghali Polo ba Mahicheh is an aromatic Persian rice dish with fava beans aka broad beans and dill, served with flavourful, tender lamb shanks.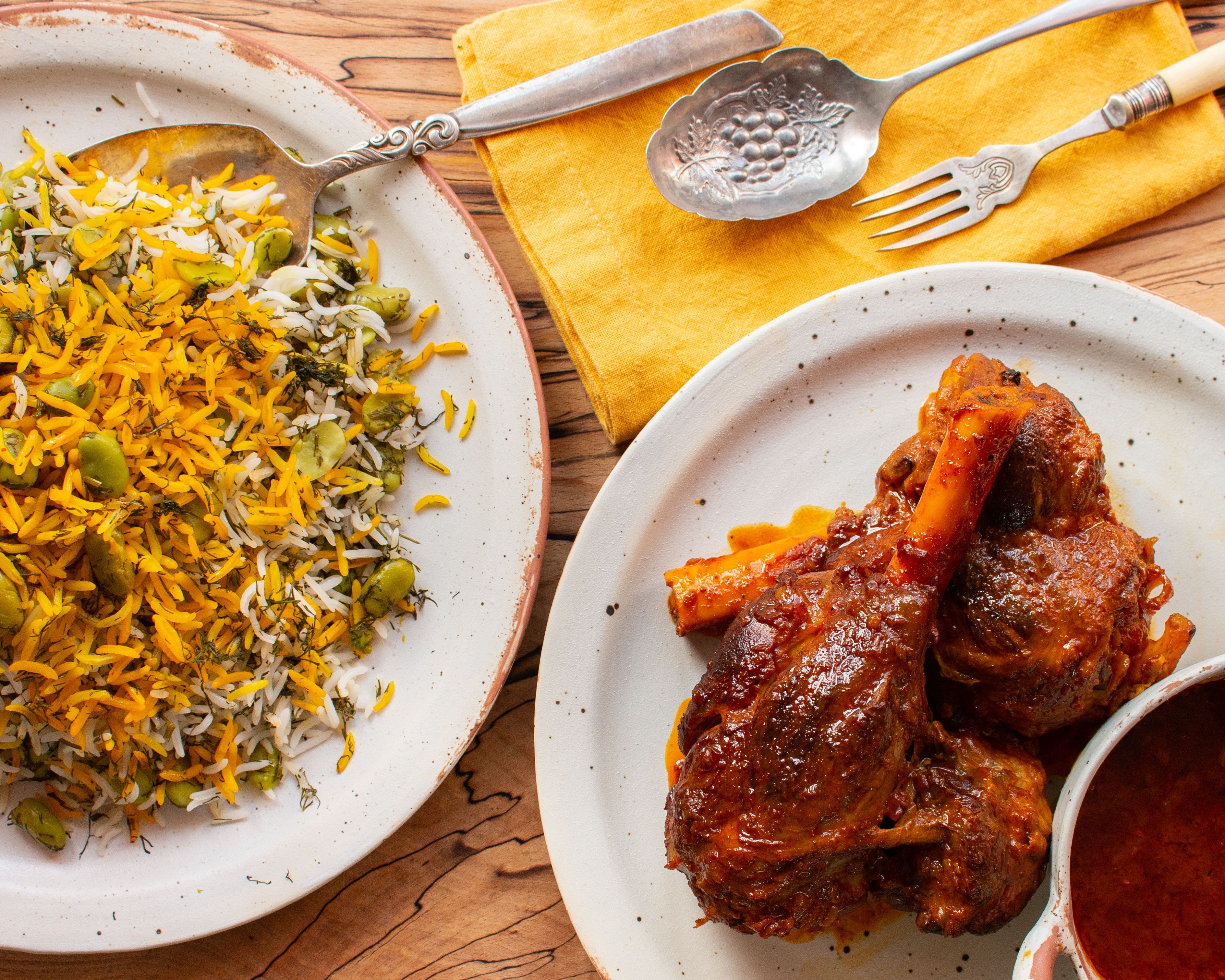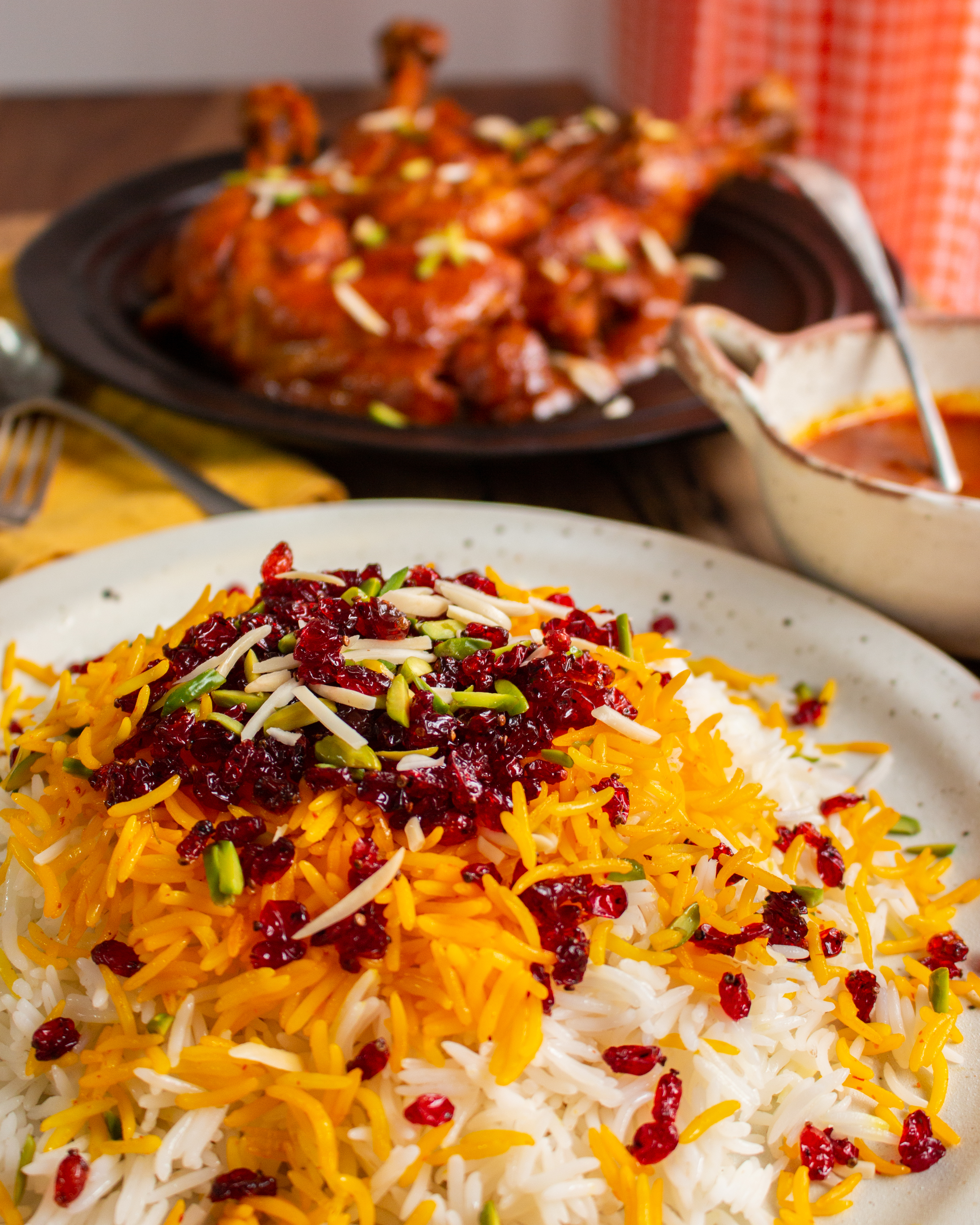 Zereshk Polo ba Morgh is an aromatic Persian rice dish with caramelised barberries and mouthwatering saffron chicken.
Khoresh-e Karafs is a hearty lamb and herb stew with celery. Fresh lemon juice adds a hint of sourness to the dish, that you can adjust to your liking.
The great thing about Khoresh-e Karafs is, that celery is available all year round. While rhubarb is in season, you might want to take advantage and prepare its sister dish Khoresh-e Rivas. I explain how to prepare both versions the authentic 'Maman way' in the course.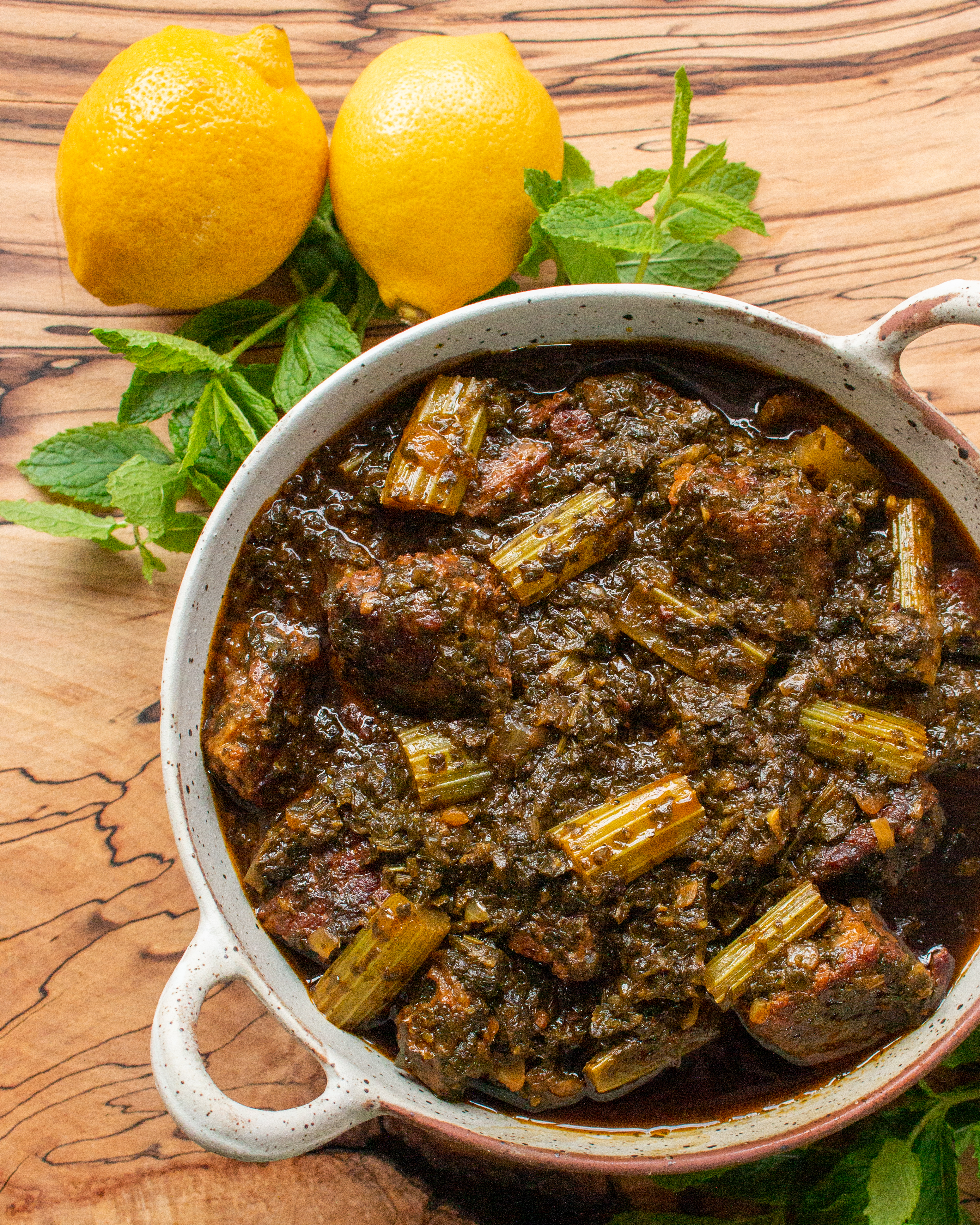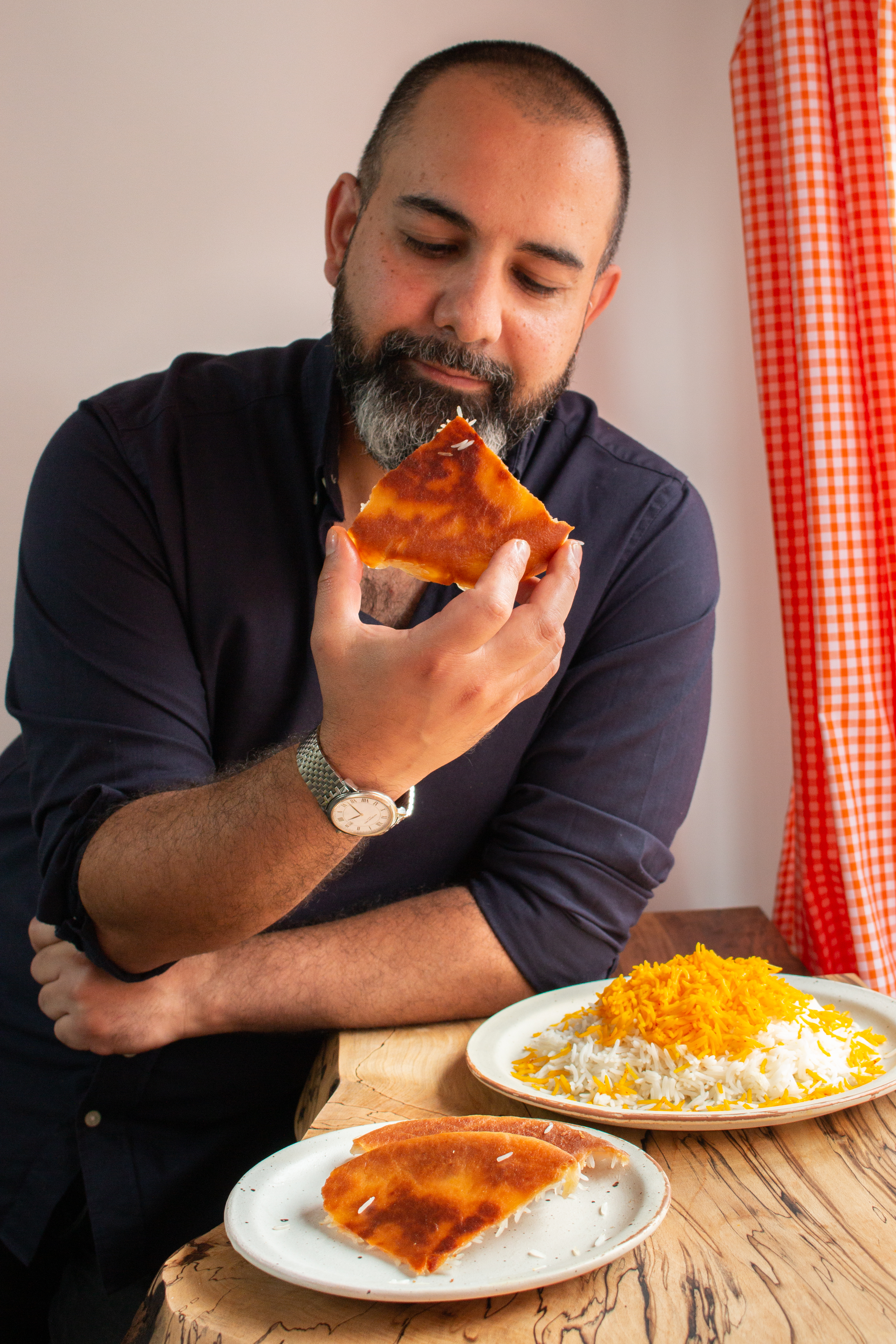 Persian Saffron Rice
You also learn how to prepare fluffy, aromatic Persian saffron rice and how to make two different versions of tahdig (the crispy bit from the bottom of the pot) - A gorgeous saffron rice tahdig and a golden brown bread tahdig.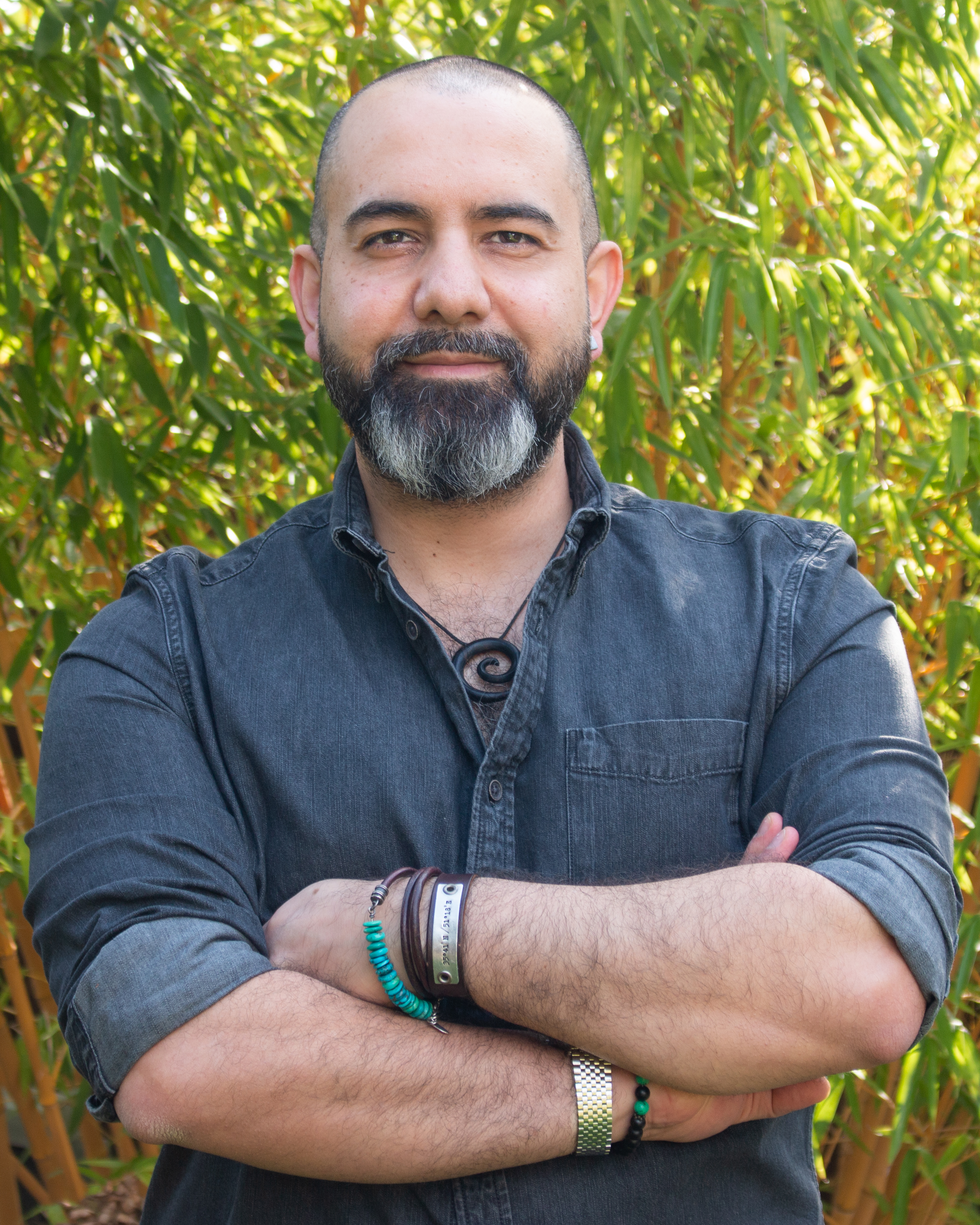 Hi, I'm Hami
Creator behind 'I got it from my Maman',
Recipe Developer, Culinary Instructor
Cooking has been an important part of my life for as long as I can remember. I spent my childhood in Iran watching my mum cook our family meals and I was in constant awe of how she could magically make them so tasty and palatable!
I have learned a great deal from my food blog "I got it from my Maman" about the significant role that food plays in our lives. Food is not only about nourishing our body, but to make us feel connected. Certain dishes and aromas evoke childhood memories, make us feel taken care of, like a warm hug, or make us excited about discovering what more is out there.
My mission is to help you create dishes, that give you those positive emotions and celebrate the awesomeness of Persian food!
Frequently Asked Questions


Can I get a refund if I'm unhappy with my purchase?
This bundle falls under Teachable's 30-day student refund policy. If you are unsatisfied with your bundle, please reach out to us within 30 days of purchase.
Are the courses pre-recorded?
Yes, these are on-demand courses, that you can access and watch at your leisure. Each course is dedicated to one full dish, that is divided into short lectures with actionable steps.
Do the courses come with lifetime access?
Yes, the courses come with lifetime access. It will be available for you to access forever and if for any reason this website will be deleted, you will have the opportunity to save the content to keep for as long as you like.
Should we improve or add to any of the courses in future, you will benefit from those improvements with no extra cost to you. Any upgrades will be available to you automatically.
Which dishes are included in the courses?
You can find a list of all the dishes and above.
Where do I get the ingredients for the course?
You are responsible for buying the ingredients you need for preparing the dishes in the courses, that you want to cook. Every section of the course begins with a list and video, in which the ingredients for the particular dish are explained in depth.
The courses include a lecture on special Persian ingredients and where to find to them. If you still have any questions about the ingredients, you can reach out to me anytime by commenting under any of the lectures.
Will I need special equipment for the course?
You will mainly use common pots, pans and tools, that you will most likely already have in your kitchen. One section in the course is dedicated to all the equipment that is needed for Persian cooking. If you have any questions about equipment, comment under any of the lectures anytime.
Bundle Contents
These 8 courses retail at $207.36 if bought separately. By purchasing the bundle for $143.040 you save 30%.